What to Expect from Environmental Justice
What is Environmental Justice?
The US Environmental Protection Agency (EPA) defines environmental justice (EJ) as, "the fair treatment and meaningful involvement of all people regardless of race, color, national origin, or income, with respect to the development, implementation, and enforcement of environmental laws, regulations, and policies."
The environmental justice movement began in the late 1960's in conjunction with the Civil Rights Movement. Recently, environmental justice considerations have been increasingly at the forefront of regulatory and policy decision making.
In January 2021, President Biden signed the most ambitious environmental justice agenda ever undertaken with Executive Orders (EO) 13985 and 14008. As part of the orders, the Biden administration implemented a "whole of government" initiative to ensure that every federal agency would develop programs and prioritize federal investments to address "disproportionate health, environmental, economic, and climate impacts on disadvantaged communities".
---
Incorporation of EJ into EPA Federally Funded Environmental Permit Programs and Decision Making
As part of the 'whole of government' initiative, EPA is prioritizing EJ as it relates to decisions within the agency. On September 24, 2022, EPA announced the establishment of the Office of Environmental Justice and External Civil Rights. The administration noted, "with the launch of a new national program office, we are embedding environmental justice and civil rights into the DNA of EPA and ensuring that people who've struggled to have their concerns addressed see action to solve the problems they've been facing for generations."
Recently EPA released the interim document Environmental Justice and Civil Rights in Permitting Frequently Asked Questions, which provides guidance to recipients of EPA funding on addressing EJ concerns within the context of industrial facility permitting and compliance process. Key points: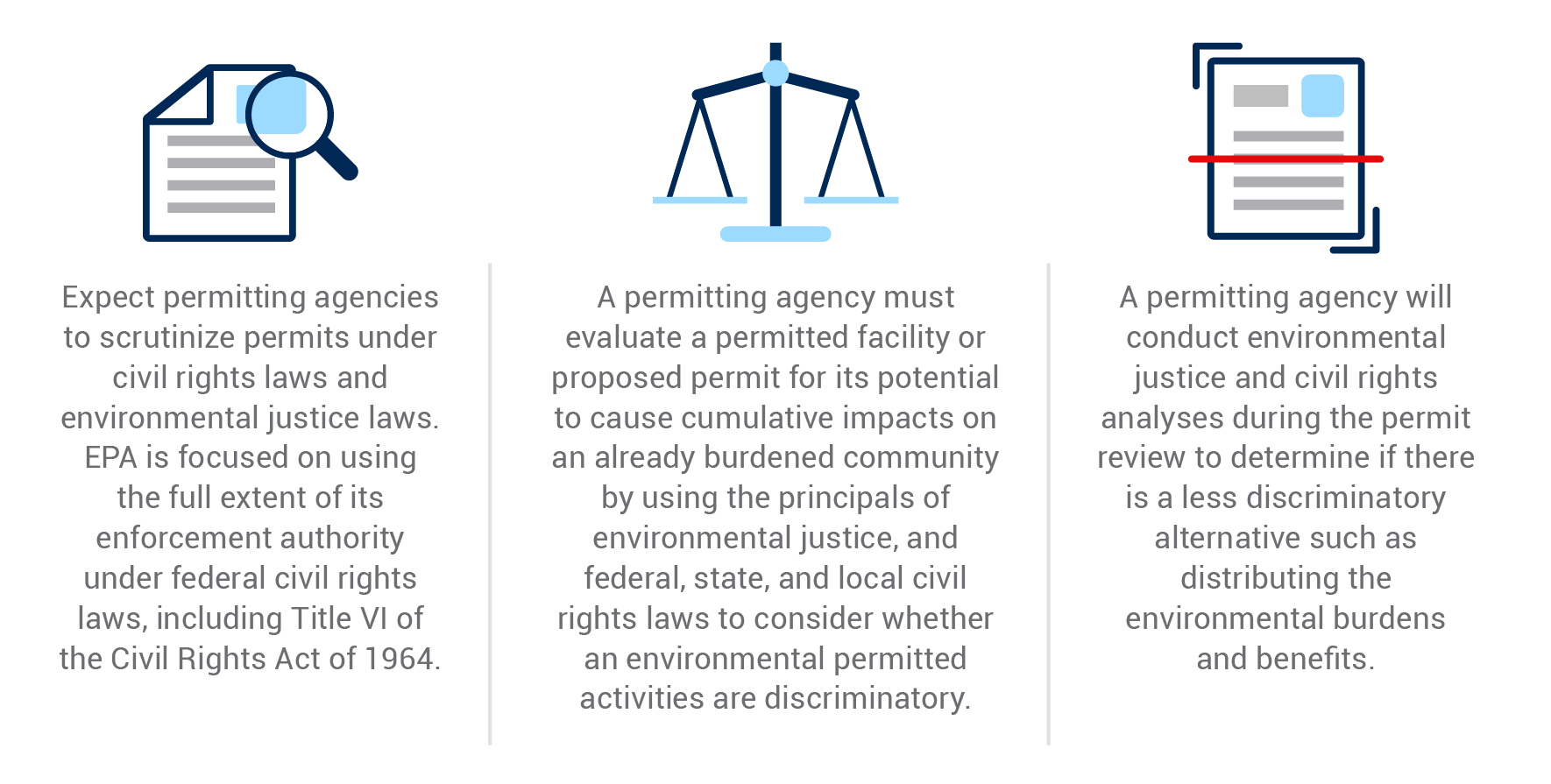 According to the EPA FAQ, permitting agencies are encouraged to carefully review applications to ensure that EJ considerations are adequately addressed and incorporated into permitting and decision making using the following best practices:
Step 1: A permitting agency should conduct a screening analysis using EJ screening tools and local knowledge, such as community reported concerns, to determine if a permitting action will raise an EJ or civil rights concern.
Step 2: If an EJ or civil rights concern is identified, the permitting agency may use existing or novel methods to complete a cumulative impact assessment. These assessments will consider multiple direct and indirect factors that EPA defines as chemical and non-chemical stressors. These factors can include potential for adverse health effects from emissions or water discharges, odors, noise, decrease in property values, measured health outcomes in a community, sociodemographic and vulnerability indicators.
---
What can you do?
Prepare for scrutiny in the permitting process by incorporating activities that will show minimal impact on your surrounding community. Industry should carefully review applications to ensure that EJ considerations are adequately addressed and incorporated into permitting and decision making.
Benchmark your facility locations for potential for disproportionate impacts relative to other areas across the region, state and nation using EJ screening tools.
Consider proactive mitigation measures to address cumulative impacts, as recommended by EPA. These measures can include:
Environmental Data Collection and Analysis:

Environmental monitoring, including fenceline and community monitoring
Evaluation of existing regional and local data
Instituting best practices for minimizing emissions or other non-chemical stressors

Public Health Outcome Data Collection and Analysis:

Third party monitoring of community complaints
Disease cluster analyses
Disproportionate health impacts assessment (such as infant mortality rates, asthma rates, low birth weights rates, cancer rates)

Data Management and Visualization:

Data Quality Assurance and Quality Control Plans
Record keeping of fenceline and community monitoring, reporting requirements, and responses to events
Public facing dashboards for reporting of data
---
How can CTEH help ?
CTEH provides multi-disciplinary expertise to help you proactively assess your cumulative impact profile so you can prepare for your next permit or renewal now. We strongly recommend starting these activities early, through an independent third party – minimizing the potential for permit delays or denials through preparedness and successful interactions with the regulatory community.